Please see our new website www.rooms498.com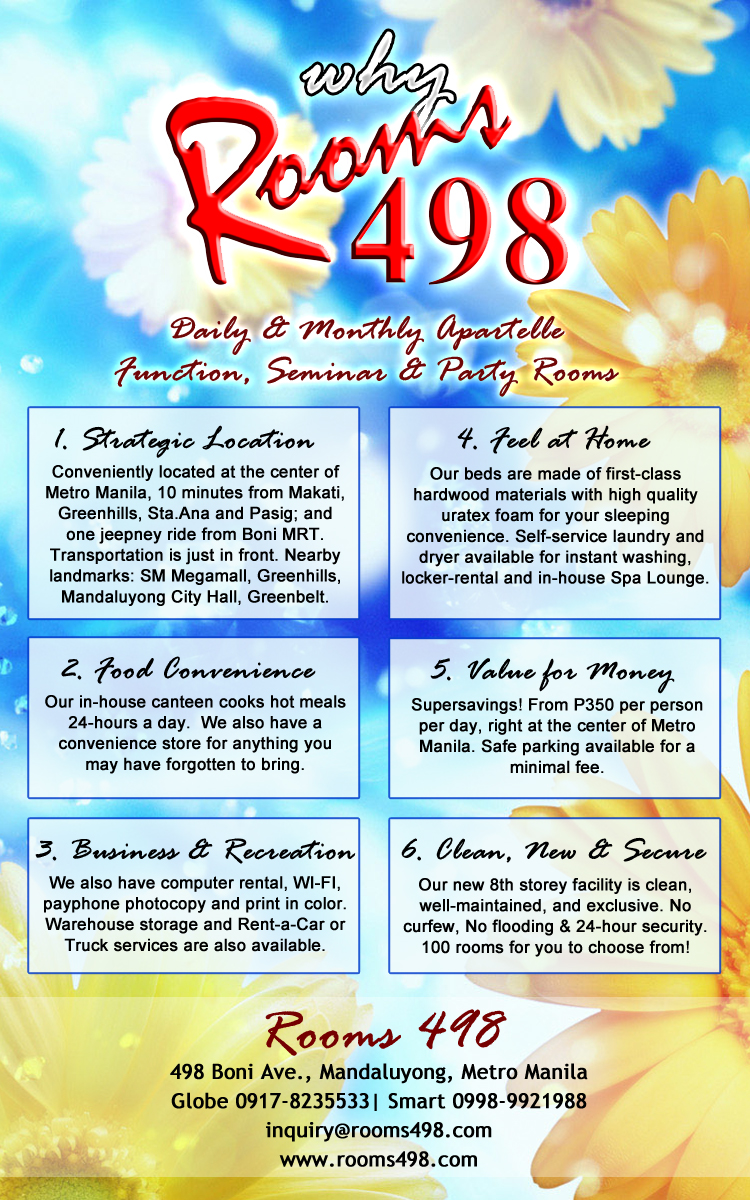 Clean, New & Secured    Our 8th storey facilities are  very clean and well-maintained, quiet and exclusive, no curfew and no flood.  24 hour security guard on duty. 100 rooms for you to choose from.  Rental parking is available.
Food Convenience  We have a kitchen where you can cook for a minimum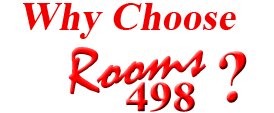 fee. You can also provide us ingredients and we cook for you.     Choose from our short order menu or drop by at our mini canteen or convenience store for cooked foods and snacks 24 hrs a day.   Price starts at 20 pesos.
Strategic Location   We are at the center of Metro Manila.  It will only take 10  minutes  to Makati, Greenhills, Sta.Ana, and  Pasig.  Transportation is  just in front. BONI MRT station is just one jeepney ride from us. ( jeepney is a cheap local transportation)

Feel at Home & Extras    Our beds are made of first class hardwood materials with high quality uratex foam for your sleeping convenience.  Drop by at our convenience store for anything you may have forgotten to bring, or rent lockers and dvds at our rental department.  Also, self-service laundry and dryer available for instant washing of your clothes.
Business & Recreation  Computer rentals are now available for rent  for a minimal fee. Please check our facilities page for all other services.
VALUE for Money Supersavings!    From 350 per person per day right at the center of Metro Manila.  Save a lot for group reservations.
ALL KINDS OF RENTALS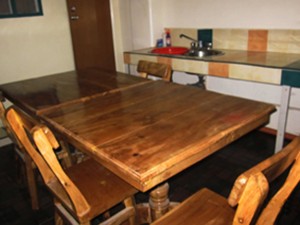 DAILY OR MONTHLY ROOMS FOR RENT  . INN & SHORT  TERM LODGING      ACCOMODATION . PENSION HOUSE .  ROOM RENTALS .  SEMINAR ROOM CLASSROOM . TOURIST VACATION HOUSE . TRANSIENT ROOM  AIRCON ROOM . BEDSPACE . APARTELLE . HOSTELS . GUEST ROOMS . HOTEL  .  RECEPTIONS . DANCE STUDIO .  CLASSROOMS . MULTI PURPOSE HALL . MEETING ROOM . PARTY ROOMS . GROUP BOOKING . FUNCTION ROOMS . KARAOKE ROOMS . BED & BREAKFAST .GROUP RESERVATION . REVIEW CLASS . SEMINAR ROOM . TRANSIENT ROOM  . DORMITORY . WORD TRAINING CENTER. RETREAT HOUSE

ROOMS  IN MANDALUYONG, ROOMS IN MAKATI, ROOMS IN MANILA, ROOMS IN ORTIGAS, WHATEVER YOU CALL US… WE HAVE ROOMS FOR YOU COZ WE ARE JUST 11 MINUTES AWAY FROM MAKATI  AND ORTIGAS BUSINESS DISTRICT..,.